Fastening Solutions
Quality & Environment
JINHAP strives to become the global industry leader in the automotive
parts through innovative technologies and processes
Quality Management
Quality policy
Through our robust in process and quality assurance practices, we deliver consistent world class parts to our customers.
Quality Strategy
Standardization and basic compliance - Establish fundamental quality control for Zero PPM quality assurance through standardization and basic compliance policies.
Quality improvement & Innovation - Root cause analysis through 5WHY, Plan-Do-Check-Act cycles / Secure the effectiveness by establishment of countermeasures and relapse prevention
Global Quality System - Set global quality control network standards that are uniform across all domestic and overseas subsidiary companies.
Quality action plan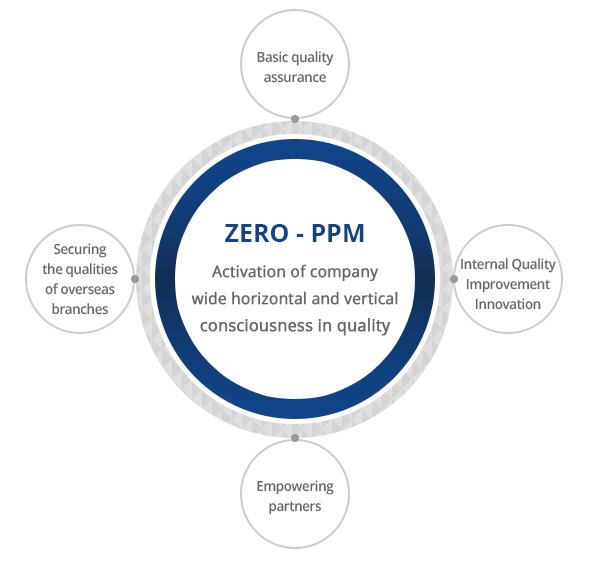 Internal Innovation to Improve Quality
1. On-going quality improvement meetings and quick dissemination of relevant information
2. Quality Report and the reward system operation
3. Repeated quality issue prevention and effectiveness confirmation
Strengthening partner capacities
1. Initiatives to enhance quality rating improvements
2. Improvement activities by job sector subgroups
3. Spread activities on how to secure parts quality
Quality control for oversea subsidiaries
1. Organizational networking and infrastructure for homogenization and stabilization
2. Local Hot-Line network
3. Continuous system evaluation / secure systems